Upcoming Content
---
This article is about content not yet in the game!
Information is set to change frequently, so please do not add any false information!
Friday Night Funkin': The Full Ass Game is the current title for the full version of Friday Night Funkin'. The game's Kickstarter campaign ran for a month until its closing on the 18th of May, 2021, 5:31 PM EDT.
Overview
The Kickstarter campaign for Friday Night Funkin': The Full Ass Game is a project created by Funkin' Crew, which consists of ninjamuffin99, PhantomArcade, Kawai Sprite and evilsk8r, the four members of the team behind the game. The announcement of the project was made on the 18th of April, 2021, coinciding with the release of Week 7 as a timed exclusive on Newgrounds.
The campaign's original funding goal was $60,000 (USD) which it reached in the first 2 hours of its public announcement. Adding onto that, it has surpassed over $1,000,000 in pledges in the first 3 days. After the campaign had closed, it had officially funded a total of $2,247,641 by 58,561 backers.
The full game has not been given a formal release date outside of guesses from the developers, but it is known that the game will show up on Steam two weeks before it is released. ninjamuffin99 also stated that the full game will not arrive for a few more years and that April of 2022 was the rough timeframe with the original $60,000 Kickstarter budget goal in mind.
Initial Goal Plan
The following content is planned for the complete base game when the $60,000 goal was met:
Web Version Updates
As ninjamuffin99 corroborated in a Tweet, the versions of Friday Night Funkin' currently on Newgrounds and itch.io will continue to receive future updates during development of the full game. Though the updates will contain some of the levels and tracks intended for the full game, players will not be able to experience all there is to offer through the web versions alone. The full experience will only be found with the release of the complete game which players must purchase.
Standard Stretch Goals
Stretch goals can be achieved by donating more money beyond the original set goal. Each stretch goal reached means more additions to the final game. All of these stretch goals have been met on the 10th of May, 2021. (Stretch goals that have been reached are in bold and indicated by a check mark.)
Bigger Stretch Goals
These stretch goals extend beyond the ones listed in the image seen on the campaign page. By the end of the campaign, none of these stretch goals were reached. Most of them were likely jokes and never intended to be reached.
Pledge Rewards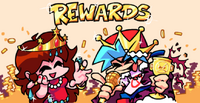 There are several rewards for supporting the campaign, depending on how much money a backer pledges. Some physical rewards will only ship to backers within the United States. The rewards include:
Trivia
Trailer