Upcoming Content
---
This article is about content not yet in the game!
Information is set to change frequently, so please do not add any false information!
Ritz The Rat, or simply Ritz, is an upcoming character for Friday Night Funkin'. He is the adoptive rat brother of Boyfriend.
Appearance
Ritz is a gray-furred anthropomorphic rat. He wears an orange beanie with a white arrow pointing downwards, red fingerless gloves, orange sneakers and a pair of triangle shades. He holds a microphone in his right hand.
Origin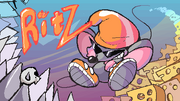 Ritz is the titular character of Ritz, a 2D platforming game where he must collect cheese to feed his friends while avoiding spikes. The game was created by ninjamuffin99, MKMaffo, DIGIMIN and Kawai Sprite for Newgrounds' Pixel Day 2020 and was posted to the site on the 25th of January, 2020.
Trivia
On the 4th of March, 2021, ninjamuffin99 posted a GIF of Ritz to his Twitter account with the caption "deleting in 30 seconds," leading many to believe that Ritz may be the antagonist of Week 7.
His name, Ritz, could be a reference to the Ritz Crackers brand.
Ritz was confirmed to be Boyfriend's brother, described by ninjamuffin99 as a Stuart Little situation.
Gallery
View Ritz's full gallery here.